Cleveland Browns quarterback Johnny Manziel continues to spiral out of control and he shows no sign of regret or remorse.
Normally, I would make the argument that an individual should be allowed to do as they please at their own peril. And, personally, I enjoy a hint of anarchy in my sports. Athletes are entertainers; anything they do to enhance that entertainment makes me want to consume sports even more.
Instances such as the Gronk Cruise, Marvin Harrison trashing Terrell Owens, and Gregg Popovich belittling sideline reporters exasperate most people. I find such cases both hilarious and fascinating in both the actions of these sports icons and the reactions of the public to them.
But, in the Manziel state of affairs, I feel a glaring mistake has been made.
On January 29, 2016, Johnny Manziel allegedly committed a serious act of domestic violence and the only attention that the report has garnered has been on the future of his playing career. The victim of his assault has been almost completely cast aside.
As reported by NBC 5 Dallas-Fort Worth, Manziel's horrific actions do not seem to be those of a right-minded individual. It is unknown whether Manziel was under the influence at the time of the alleged attack on now ex-girlfriend Colleen Crowley, but the details in her sworn affidavit applying for a protective order portray Manziel as manic and suicidal; traits that we have not seen from him in past behavior.
The two had been out for a night with friends in the Dallas-Fort Worth area and ended up back at the upscale Hotel ZaZa where Manziel was staying. Crowley's friends departed, leaving Manziel and Crowley alone where they began talking, "about things I had heard earlier in the week about him being with a girl who had caused us problems in the past," Crowley said. If she was going to stay in Johnny's room, it would be on the couch.
Manziel threw her on the bed, playfully, he claims. Crowley decided to leave, for fear of escalating the situation further but was restrained by Manziel.
Then, allegedly, Manziel lost control.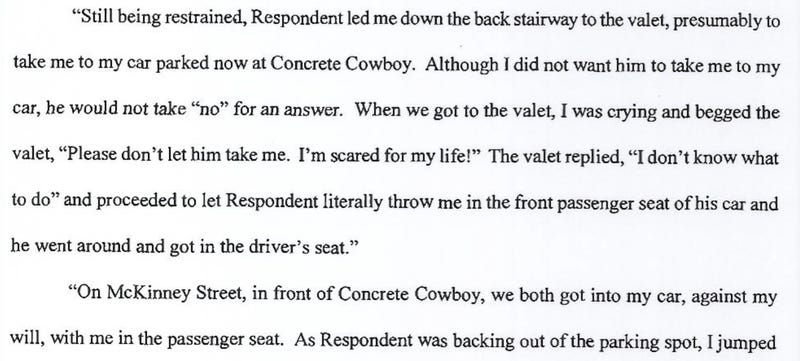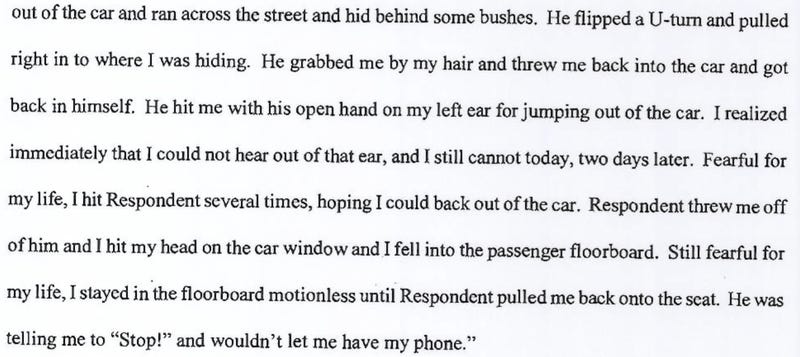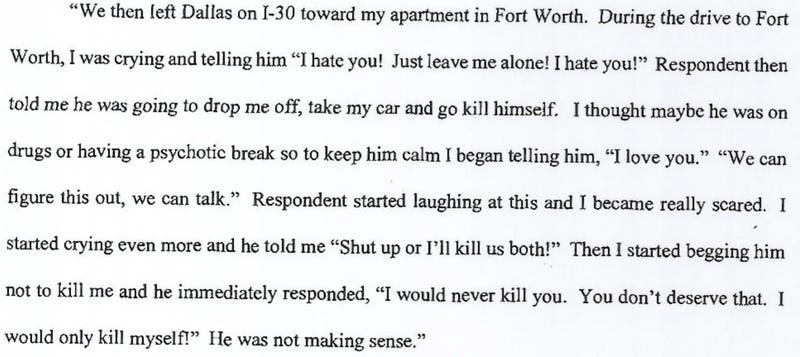 You can view the full affidavit at the bottom of this post with the remainder of the particulars regarding the alleged assault.
Manziel was issued a restraining order by a Tarrant County Judge following the breaking of this story last month and the criminal investigation has since been referred to the Dallas district attorney. The case will be tried as a misdemeanor assault/domestic violence allegation before a grand jury, meaning that the allegation most certainly has teeth.
It should also be noted that the Cleveland Browns, the team that drafted him a mere two seasons ago, is reportedly done with him and will waive him as soon as they are able once the new league year begins March 9th.
Anytime Johnny Football makes headlines, I refer back to one of the most telling articles that has been ever written about the embattled QB by one of ESPN's best, Wright Thompson. The 2013 piece, entitled "The trouble with Johnny," foreshadows almost exactly what we see before us now.
"Johnny Football is a growling grown-ass beast of a human," Thompson transcribes. "Johnathan Manziel is a boy trying to become a man."
We can laugh at stories of Manziel disguising himself on "secret" trips to Vegas before a regular season game. We can ignore the fact that he has chosen to "lay low" the past few days in South Beach Miami, FL bedding swimsuit models at $4,000+ a night hotels while frequenting strip clubs.
True, Johnny Manziel seems to suffer from his own problems and is in clear need of help, whatever form that may come in. But, Johnny's most recent trouble is a prime example of how tone deaf our country and the NFL still are in regards to the issue of domestic violence.
He has made his choices and, frankly, he should no longer be our concern.
Imagine if video had been released of this incident like the in the case of former Baltimore Ravens runningback Ray Rice. Where is the outrage for Colleen Crowley, the victim of Manziel, and public outcry for justice from the National Football League?
The fact remains that, without video/picture evidence of domestic violence, we shrug such dastardly actions off and move on to the next NFL offseason transaction. We concern ourselves more with fictional scenarios of Johnny Football finally joining the Dallas Cowboys rather than worry about the emotional and psychological effects the actions that may put him there may have had on the people involved.
Manziel's father was quoted as saying he worries, "he won't live to see his 24th birthday." That, of course, is a dire concern.
Colleen Crowley, on the other hand, had physical harm done to her by an NFL player and may actually have come close to losing her life.
No one seems to care.