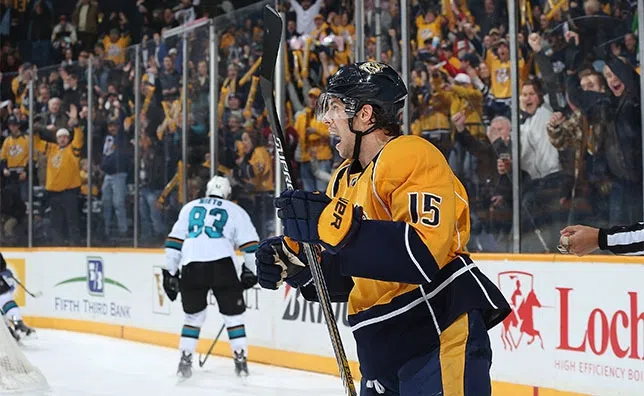 There's a new star in town, and he's become quite the popular name for many Smashville fans.
The Nashville Predators are barely two months into the season, and while forward Craig Smith is great on the ice, he's also made his footprint as an emerging radio talent.  Of course, we're talking about him hosting the Craig Smith Show on our very own ESPN 102.5 The Game.  Today, NHL.com's Dan Rosen, author of the Central Division Notebook, noted that Smith is Nashville's new radio star:
"Predators forward Craig Smith is taking his turn this season co-hosting a radio show Wednesday nights on ESPN 102.5 The Game Nashville with broadcasters Stu Grimson and Willy Daunic. The show is broadcast from Tin Roof, a bar in downtown Nashville."
Craig Smith had some positive words on hosting the radio show:
"It's neat to see some of the fans that show up there, some of the loyal people. I'm starting to feel like I know the people now because I've seen them so often and [heard] questions from them. It's unique. I haven't heard too much feedback from the outside yet, but I know my old man is listening and I've got to get him a shout out soon."
So far this season, Smith has hosted three shows with Nashville Predators guest players Colin Wilson, Ryan Ellis, and Colton Sissons.  Our next Craig Smith Show will be on December 28th, 2016 at Tin Roof on Broadway in Downtown Nashville.  The guest player has yet to be determined.
To read the full NHL.com article, click here.
To learn more about the Craig Smith Show, check out the Craig Smith Show page.