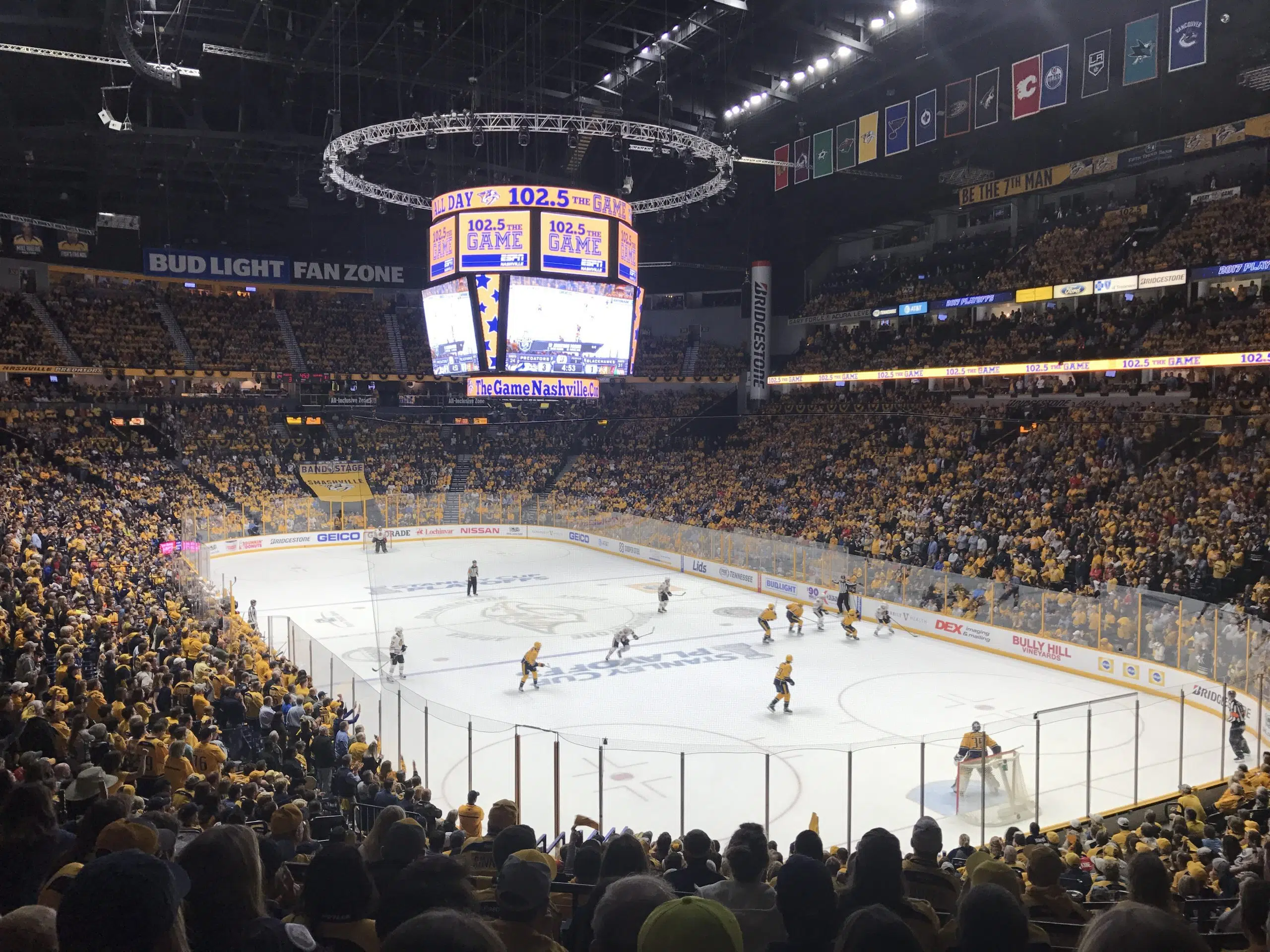 To say that last night's Predators / Blackhawks playoff game was magical is a HUGE understatement.
The Nashville Predators did something that they have NEVER done, and what only a few other teams have ever done in NHL history: sweep the top-ranked team in the first round NHL Stanley Cup Playoffs. Not to mention, it's even sweeter because the victim was the division rival Chicago Blackhawks. In light of such an incredible night, we've compiled some of the best moments from Game Four.
Here are some of the best moments from this memorable Predators' game:
Luke Bryan Opens Game Four with National Anthem
He had a lot to live up to, being that the captain's wife Carrie Underwood belted an incredible National Anthem in Game Three, but Luke Bryan seemed to be a crowd favorite. (Video credit: Fox Sports South / Youtube)


First Goal: Josi Scores Off the Draw
The first goal of the game by Predators defenseman Roman Josi set the pace for the energy in Bridgestone Arena for the rest of the night. (Video credit: PUCK / Youtube)


The "Sweep" Chant
After the empty-netter scored by Arvidsson to make the lead 4-1, the crowd turned Queen's "We Will Rock You" into one of the most memorable moments in Predators' history.

Of all the great moments in #Preds history, this one has to be up there…

The "SWEEP" chant. pic.twitter.com/6VizRQ7apM

— 102.5 The Game (@1025TheGame) April 21, 2017

"Get out your broomsticks." The Final Seconds
The crowd inside Bridgestone Arena absolutely erupts after the Predators complete the sweep of the top-ranked Chicago Blackhawks.

The final seconds. pic.twitter.com/iXqaOken9v

— 102.5 The Game (@1025TheGame) April 21, 2017

Oh, in case you were wondering… #SMASHVILLE absolutely LOST IT when the clock hit 0.0. #PREDS SWEEP THE HAWKS. #StanleyCup pic.twitter.com/stdcTCZIGP

— 102.5 The Game (@1025TheGame) April 21, 2017

Insanity Ensues in Smashville
Chants, rallies, and even a flipped car.  We will let this one speak for itself. (Video credit: The Tennessean / Twitter)

#Smashville https://t.co/aWVo1I1IeV pic.twitter.com/I6eI3OjzN1

— The Tennessean (@Tennessean) April 21, 2017

Smashville is going ape tonight!! pic.twitter.com/W4sCyAdHqh

— 102.5 The Game (@1025TheGame) April 21, 2017
Needless to say, the Nashville Predators made a massive impression in their franchise history, but also the entire NHL. The Predators await to see who their opponent is in the second round, which could be either the St. Louis Blues or the Minnesota Wild. The Blues currently hold a 3-1 lead in the series.
However, tickets have already been made available and can be purchased right here.  Hopefully, the Nashville Predators can make history yet again in the next round. Either way, buckle up: It's going to be a long ride, Smashville.