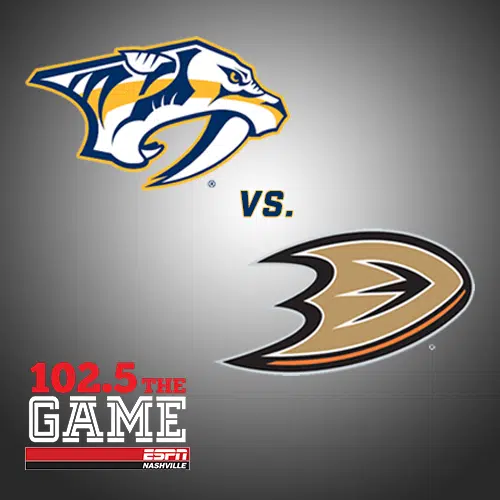 3D was joined by Sportsnet analyst Andrew Berkshire Wednesday morning to discuss the Nashville Predators after an impressive 2-1 win over the Anaheim Ducks Tuesday night to take a 2-1 series lead in the Western Conference Final.
Berkshire had high praise for the way head coach Peter Laviolette has Nashville structured, and says that it is the foundation of how the Predators succeed.
"Their defensive structure is even better than their offensive structure," Berkshire said. "You look at the way they defend paths through the middle of the ice, in their own zone. It's incredible. They're always in the right lanes, their gaps are very good. This is just a very smart, well-run team."
The Predators' style of play often sees defensemen such as Ryan Ellis and P.K. Subban join in on the attack and help create chances, while also maintaining defensive responsibilities.
Berkshire says Nashville's offensive success is due to their defenders as much as their forwards, thanks to the fact that they help open up the ice and overwhelm the opponent when pressing forward.
"They have something that other teams don't have," Berkshire said. "Their ability to have their defensemen join in on floor checks and off the rush as well. Not just one defenseman every pairing, but both defensemen on their top pairings can do that. It opens up extra lanes which allows them to get better passes through the middle of the ice. It's very hard to defend when you have active defenders like that."
Speaking of  Ellis, Berkshire had to take a moment to appreciate the 26-year-old's 9 shots during Tuesday night's game against Anaheim.
"He's a bit of a cannon," Berkshire said. "He just winds up and shoots over and over again. It tells you a lot about Ellis. He's always looking to contribute offensively and I think that strength on the power play, the pairing between him and Subban, do a great job of getting each other open for lanes."
The forward-thinking work of Nashville's defenders have countered the Ducks' gameplan to limit Predator forwards Viktor Arvidsson and Filip Forsberg, and instead opened up valuable chances on top of what the forwards can already muster.
It showed through Roman Josi's game-winning goal in Game 3, which Berkshire says is an example of how this tactic could propel Nashville to the Stanley Cup.
"Against a lot of teams, allowing the defensemen to take shots will work out pretty well for you," Berkshire said. "Shots from where defensemen usually shoot are 3-5 percent expected shooting percentage. But the Predators are so much more talented there, and their defenders are so much more active… It's really tough to defend against a team like Nashville. Even if you wanna take out their forwards away down-low, their defense can kill you just as bad."
To catch Berkshire's full interview with 3D, listen here: