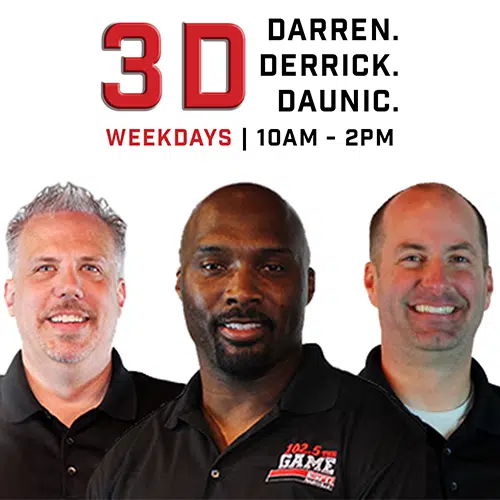 Former NFL quarterback and current ESPN analyst Tim Hasselbeck joined 3D on Wednesday to discuss the recent signing of Eric Decker on a one-year, $3.85 million contract. Decker, 30, will be looking to bounce back after an injury-plagued season in 2016.
Decker averaged 1085 yards and 10 touchdowns a season before 2016, and he'll look to return to those types of numbers in Nashville this fall. For Hasselbeck, the signing is good for both production and for being a veteran presence for the receivers.
"He, I believe, is still a very good player," said Hasselbeck, a weekly guest of 3D. "I think he's a good match in terms of the other guys they've added at the position that are younger. I think he'll be a good guy to have in the receiver room, and I think he'll still give you production."
Hasselbeck also thinks the Titans did well to snag Decker for a relatively cheap contract. Decker was paid $6.5 million by the New York Jets last season, so getting him for almost half of that is a tidy piece of work by the Titans front office.
"Honestly, I think that they got him cheaper because of circumstance," Hasselbeck said. "Last week, I said, 'What's it going to cost, $5 million?' But you're getting him for less than that and I think that when you look at experience and production along with the guys they have there, I like the fit quite a bit."
There are obviously questions to be answered considering Decker's age and injury issues last season, but his consistent production coming into last season is a promising sign. Fitting into the Titans offense and working with quarterback Marcus Mariota will be imperative to a productive first season in Nashville.
Hasselbeck thinks that Decker could take on different roles depending on the situation and Mariota's play, but Titans fans should expect him at the No. 2 spot and possibly the No. 1 spot.
"I think he's a No. 2," Hasselbeck said. "I think, depending on the situation, he could almost qualify as a No. 1. Marcus' development is gonna have a lot to do with it, I think his health will have a lot to do with it… When they have one wide receiver out on the field because they're in a short-yardage situation, he's as likely as any other receiver to be out there."
Overall, Hasselbeck expects Decker to have a fairly productive season despite the Titans' run-based offense, thinking that Decker should slide in to provide good game-to-game production, and potentially a return to the form he had in New York and in Denver.
"Does he have the ability to catch over 70 balls for them? I don't know, maybe it gets spread around a little bit more and it's around 60 balls. Can he have six touchdown catches? Yeah, I think he can… But I do think he's a good fit in that he's an all-around guy who seems fairly committed to doing what he's doing."
For the complete interview, listen here: