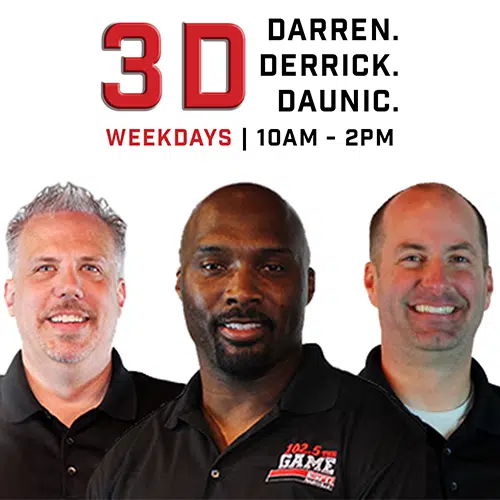 University of Tennessee Athletic Director John Currie joined 3D Thursday morning to discuss his first few months on the job and to give an insight to his time so far and what's to come for the Volunteers. Currie is excited to be back in Knoxville, saying that his eight years away has seen the school transform.
"It's been an incredible ride," Currie said. "74 days since we got started, but the most impressive thing to me, coming back to the University of Tennessee after being gone for eight years, is how this campus has been transformed from an academic perspective as well as the beautification of the campus."
After spending 12 years in UT's athletic administration, Currie took the AD job at Kansas State in 2009. Currie spent seven years in Manhattan before returning to Knoxville as an AD on February 28. Currie discussed the lessons he learned at K-State, specifically mentioning his letter-writing program that he has continued during his return to UT.
"We'll do them about every two-to-three weeks," said Currie, explaining the frequency of the open letters. "More often when the spirit moves us and we have something important to share. I have an e-mail portal for fans to e-mail me questions and things like that, and sometimes there'll be a question that I take from getting a tweet or a direct e-mail and be able to answer that question broadly."
Currie also went into his relationship with head football coach Butch Jones and how there is a good sense of transparency and cooperation with the football staff as they gear up for the upcoming season.
"We've spent some time together," Currie said. "One of the great things about being in the same building is that I can walk down to his office, he can walk down to my office. I stopped in on staff meeting this morning and they've got the whole staff grinding away, getting ready for the season… They're working very, very hard. It's very impressive to me and I'm just looking forward to getting to know each other."
With the recent news of Phil Fulmer's hiring as an adviser, Currie is excited to work with the former Vols head coach to improve all aspects of Tennessee athletics and thinks Fulmer's prestige and history will provide a valuable perspective.
"We're all incredibly grateful for Coach Fulmer being willing to give up some of his time," Currie said. "He's making a significant investment of his time and energy into advancing the entire university throughout the state and around the country… He represents the greatest period of time in the modern history of this program. I'm extremely pleased and excited. He's gonna be busy."
For the full interview, listen here: