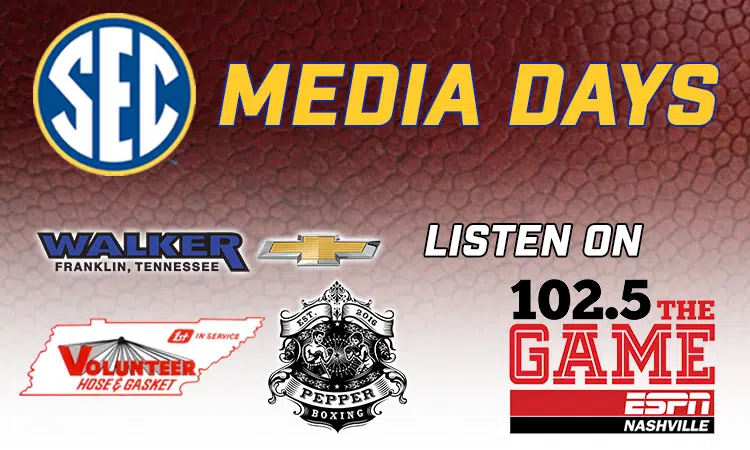 Day two of SEC Media Days in Hoover, AL saw Georgia, Vanderbilt, Mississippi State and Florida all get their turn on radio row and at the podium. If you missed anything from our shows, here are the highlights!
BRADEN & FITZ
Vanderbilt football coach, Derek Mason, stopped by to chat with the fellas and discussed what year four might bring for the Commodores.
While Hoover, AL is the sight of SEC Media Days, Nashville has shown the world that it knows how to do BIG events. Scott Ramsey, the CEO of the Franklin American Mortgage Music City Bowl, talked with Braden and Fitz about what it has been like to be the "it" city.
3D
SEC Commissioner, Greg Sankey, gave his opening speech and took questions from the media on Monday, but Tuesday… he visited with Darren McFarland and Derrick Mason. Could SEC Media Days come to Nashville one day? Hear his answer…

The Georgia Bulldogs have been blessed with some pretty good running backs over the years. One of those is Sony Michel. He stopped by our broadcast location and discussed year two under head coach, Kerby Smart.

JARED & THE GM
It's a Saturday in October and it's 2:30 in the afternoon, you know what you're doing. You're tuning in to CBS for the SEC Game of the Week. One of those voices you hear is Gary Danielson. He sat down with Jared and one of his former coaches, Floyd Reese.

The College Football Playoff has seen a lot of success in its short history. Bill Hancock has been an instrumental part in that success. The CFP Executive Director joined Jared & the GM to discuss the up-coming season.

For ALL of our interviews, check out our Game Audio On-Demand page here!
Our 2017 SEC Media Days coverage is brought to you by Pepper Boxing, Volunteer Hose & Gasket, and Walker Chevrolet!