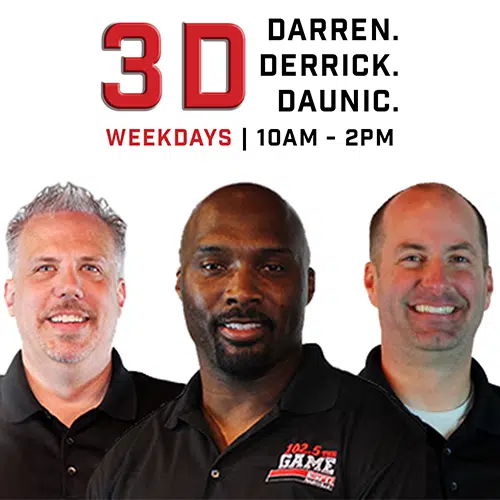 ESPN 102.5 The Game's 3D had Nashville Predators forward Austin Watson on the show Monday afternoon to discuss his recently signed 3-year, $3.3 million contract and to see what life has been like for the 25-year-old after the Preds' breathtaking run to the Stanley Cup Final.
Watson began by talking about the process of getting a contract signed, and said that he was happy that the deal was able to be completed before arbitration, with the first hearing of the process originally scheduled to take place this upcoming Monday.
"It's a long process," Watson said. "You're trying to get a fair deal done for your side as well as the team. Fortunately as players, we have the arbitration process as our right and I just kind of help facilitate things and help get it done. Super excited to come to terms beforehand and to be around for the next three years."
Watson's deal keeps him in the Music City through 2020 and will see him make $1 million in the coming season. Watson stated that it feels assuring to have many of the team locked to long-term contracts and that it helps the relationships between the team itself as well as the relationship with the Predators organization.
"It's pretty cool to see," Watson said. "Especially having such strong personal relationships with everybody having played together and coming up through the ranks… It's great to have that, to be familiar and comfortable with the guys and to know that our team going forward is pretty well locked up. Hopefully we can build on the success we had last year."
As for how life has been after the Preds playoff journey, Watson has said the energy and attitude around the town has lingered and been wonderful to interact with, and that Nashville is now permanently on the map in the hockey world.
"It's really been awesome," Watson said. "The whole vibe around the city, with the playoffs and the Stanley Cup Final, is something that not a lot of us have ever experienced and something that put Nashville as a hockey city… People saying congratulations while you're out grocery shopping or just seeing all the support is awesome."
However, the 25-year-old forward did say he was looking forward to returning to the ice and chase for the Stanley Cup once again this season. Watson said that the offseason break is important, but that the drive and motivation for next season has him ready to get back into the swing of the NHL season.
For the full interview, listen here: