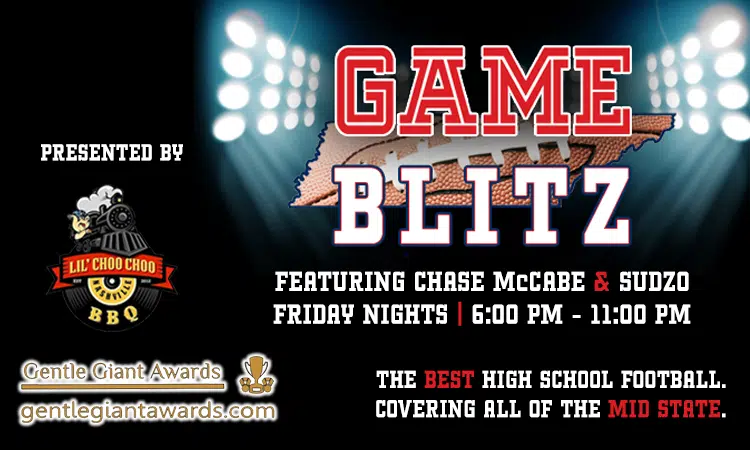 High school football is back in Middle Tennessee for the 2017 season! Starting Friday, August 18th local rivals will face off yet again. ESPN 102.5 The Game has all local action covered on The Game Blitz starting at 6 o'clock PM every week. Hosts Chase McCabe and Sudzo bring the excitement directly to you during and after games all throughout the night.
Week One Matchups Are Set To Thrill
Week 1 of the season kicks off with a bang. Big-time clashes featuring 6A foes Oakland versus Independence, in a battle of Williamson County rivals Brentwood faces Franklin, and a battle of powerhouses Blackman plays Hendersonville.
Other notable contests Friday night are Summit vs. Spring Hill, state champion Brentwood Academy vs. Hillsboro, and Father Ryan vs. Overton. The Game Blitz will have all the results of these games and much more, including exclusive interviews with head coaches.
Nolensville Set To Play First Full Season
Nolensville is the newest school in Class 4A and they're set to hit the gridiron for their first full season. Head coach Will Hester left a distinguished program at Ravenwood to get his start at Nolensville.
The big question facing the Nolensville Knights and Coach Hester is, how far along is their team? Coach Hester and company face the challenge of having a young squad with very little varsity high school football experience. Can Hester turn these newbies into a triumphant group of state champions?
Over the course of the season we'll see what Nolensville turns into, but it all starts with week one and the first game for Nolensville High's first full season.
The Knights begin their journey against Fayetteville High School at 7 PM at Nolensville High.
Reclassification Across The State
TSSAA released their new classes where high schools will compete. With these reclassified divisions and classes, how will the season be affected? The improvements made certainly will impact the road to the BlueCross Bowl later in the season but it all begins on Friday nights in August. To keep track of all these changes and their impact on Mid-State football, tune in to ESPN 102.5 on Friday at 6 PM!
A few notable changes from the TSSAA website include;
Each of the major Rutherford County schools will be grouped into Class 6A including, Stewarts Creek, Riverdale, LaVergne, Blackman, Oakland, Siegel and Smyrna
Nolensville will play their first full season in Class 4A against schools like Tullahoma, Spring Hill, and Maplewood
New school size ranges for Division 1 are;
Class 1A- 0-375 students
Class 2A- 376-556 students
Class 3A- 557- 821 students
Class 4A- 822- 1102 students
Class 5A- 1103- 1508 students
Class 6A- 1509 and up
For Division 2;
Class A- 0- 492 students
Class AA- 495- 1033 students
Class AAA- 1034 and up
For the complete list of schools in each division and class you can click the link below on tssaa.org
http://portal.tssaa.org/common/classification/?schoolYear=2017&sportid=1
ESPN 102.5 The Game Blitz with Chase McCabe and Sudzo will be your source for all of the Friday Night Football action all across the Mid-State. Don't forget to tune in Friday nights at 6-11 PM all throughout the fall for updates! Don't see your school's score? Tweet us, @GameBlitz1025!