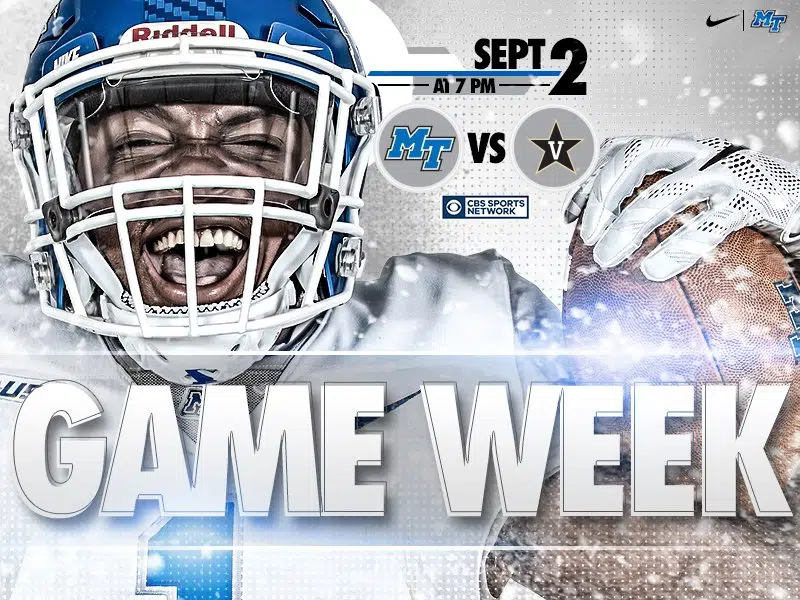 The Vanderbilt Commodores travel south to face the Blue Raiders of Middle Tennessee on Saturday, Sept. 2. This in-state rivalry is brewing more and more excitement each season, as these two schools kick off 2017 against each other at 7 PM on ESPN 102.5 The Game, flagship of the MTSU Blue Raiders.
What To Watch For
The Blue Raiders have a bonafide star anchoring their offense in quarterback Brent Stockstill. With a West Coast-style offense, Stockstill sees plenty of opportunity to show off his skills. The question for Vanderbilt is, how do you stop – or at least slow down – a 3,000 yard passer?
Vanderbilt must apply pressure on Stockstill by mixing up blitz packages and getting penetration from their defensive line. To prevent Stockstill from tossing the ball around field, the Commodores will have to be in his face all night and knock him on the ground.
Vanderbilt Head Coach Derek Mason is known for his defensive prowess and for dialing up exotic blitzes from his 3-4 defensive scheme.
The Commodores struggled with their pass rush last season, as they ranked last the SEC in sacks with a meager 15 sacks. Mason's defense looks to young players like Dare Odeyingbo, Caleb Peart, and Oakland graduate Josh Smith to generate a pass rush, as well as veteran defensive tackle Nifae Lealao.
To complement Brent Stockstill, MTSU brings dynamic wide receiver Richie James to the field. James is an All-American, according to Phil Steele, as well as an All-Conference USA performer from a season ago. Don't forget he's been named to the Biletnikoff Award watch list – twice.
He's slighter in stature at only 5-foot-9 but has legitimate speed to stretch the field and breakaway on screen passes.
Vanderbilt will have to find a way to limit James' impact to keep the Blue Raiders out of the endzone. The Commodores have a young nucleus of defensive backs as well as some veterans who provide experience against the Blue Raiders' potent offense.
Vanderbilt doesn't have a proven shutdown cornerback on their roster. We could see veteran Tre Herndon, or former four-star recruits Donovan Sheffield and Joejuan Williams step in and match up with James.
Vanderbilt touts some offensive star-power in the form of running back Ralph Webb – an All-SEC caliber tailback and a two-time 1,000 yard rusher.
For MTSU to have a chance at slowing down Vanderbilt's rushing attack their defensive linemen in the trenches must play well. Coach Rick Stockstill has to restock every position along their defensive line after graduating last year's starters.
Coach Stockstill added a dynamite transfer in Walter Brady who sat out last season. Brady was a Freshman All-SEC and All-American performer two seasons ago at Missouri. He matched current NFL defensive end Charles Harris in sacks with seven during his freshman campaign.
The Blue Raiders also added Aaron Griffith to their squad after he spent two years at Laney College. Rosheem Collins is another transfer along the defensive front who is expected to step in for the MTSU defense and have an impact from East Central Community College.
MTSU returns Malik Manciel who saw action in 12 games last season. Manciel posted 14 tackles last season and 1 tackle for a loss.
Production from newcomers and young players on the defensive front is paramount to MTSU's success against a physical Vandy offense.
What's At Stake
With these two schools so close to each other in proximity and both recruiting from similar grounds in the mid-state, this game holds weight for both programs.
Vanderbilt is looking to go to back-to-back bowl games for the first time under Mason's reign. With a brutal SEC schedule ahead, the Commodores need every win they can get.
This is a game Mason's team has to win if they hope to reach bowl eligibility again and take the next step as a program.
MTSU is a mid-major school, but that hasn't stopped the Blue Raiders from going to bowl games consistently or building one of the nation's best offenses.
The Blue Raiders knocked off SEC foe Missouri last season to kick start their attack on the SEC. Coach Stockstill is building a great program in Murfreesboro, but to continue growing and expanding the MTSU brand they need to beat Vanderbilt this Saturday.
Defeating an SEC opponent is momentum MTSU can gain beyond the field but also on the recruiting trail.
For both teams this game is a stepping stone to bigger things for their programs. Vanderbilt has to continue to get to bowl games to garner respect in the SEC. MTSU needs to win to continue building a national brand under Coach Stockstill.
With NFL talent on display, in-state rivalries playing out, and the beginning to another great college football season kicking off, Vandy-MTSU surely won't disappoint.
Tune in to ESPN 102.5 The Game or 97.5 in Murfreesboro for the play-by-play at 7 PM, with pregame at 6 PM, for all of Saturday's action from Floyd Stadium.