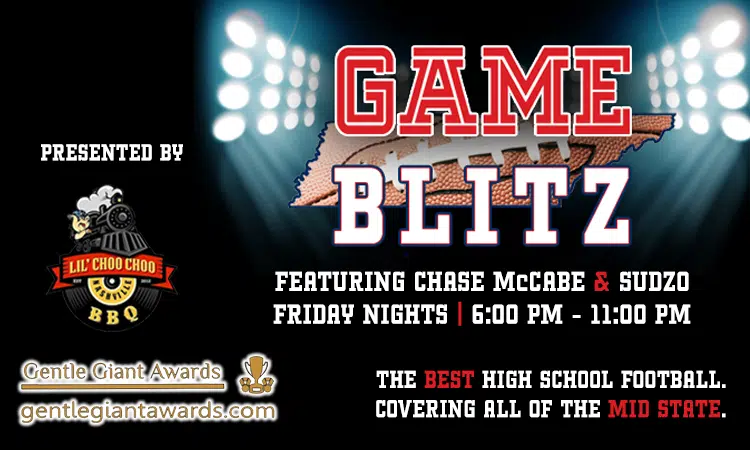 ESPN 102.5 The Game Blitz has your coverage for all things high school football in Middle Tennessee. Tune in this Friday at 6 PM to hear all the action from hosts Chase McCabe and Sudzo.
Week 2 took us down to the wire with exciting finishes. Down in Murfreesboro Oakland pulled out a monumental victory over Maryville winning 17-14. Meanwhile in a battle of prestigious private schools a missed extra point in overtime cost Ensworth dearly as CPA won 21-20 in a shocking upset.
Throughout every last second finish and final drive The Game Blitz was on-air bringing updates to the listeners.
Tune in Friday night to hear updates from each big game, featuring live updates from reporters and interviews with the best head coaches. The top action will be on ESPN 102.5 The Game with the premier games this week.
Siegel (1-1) vs. Riverdale (2-0)
Two powerhouses from Rutherford County meet when Siegel faces Riverdale Friday night. When two 6A rivals meet up there is bound to be a great game on the gridiron.
The Riverdale Warriors tout two impressive wins early on this season, beating East Nashville in week 1 then knocking off Franklin in week 2. Riverdale is proving they are legitimate contenders for the state title this season.
The Siegel Stars started the season strong by crushing Stewarts Creek, then lost a tough game to Ravenwood. The Stars have one of the most electric playmakers in the state at running back in Lelan Wilhoite. Wilhoite was a nominee for the Gentle Giant Performer of the Week during Week 2 after his 4 touchdown performance last week.
Gallatin (2-0) vs. Hillsboro (1-1)
Hillsboro faces their third quality opponent this season in the Gallatin Green Wave. After getting beat handily by Brentwood Academy in week one the Burros bounced back in week two by defeating Stratford.
Gallatin began their season strong by winning each of their first two games by double digits. Beating Hillsboro would be a signature win for the Green Wave – winning Friday night would prove Gallatin is ready to compete against other big name schools.
Centennial (1-1) vs. Independence (0-2)
The signature game in Williamson County this week, Centennial travels to face Independence. No team has truly separated themselves as the top dog in Williamson County, this game gives Centennial a chance to step up or for Independence to bounce back.
Centennial beat Ravenwood in week one to make a splash in Class 6A. The Cougars came back in week 2 and suffered a blowout loss against Hendersonville. Coach Kriesky's squad is looking to bounce this week and separate themselves in Williamson County.
After going to back-to-back state titles the Independence Eagles are struggling to start this season. For a program with as much success as Independence suffering two losses to start any season is disappointing. This is a crucial game for the Eagles to resurrect their year before it slips through their fingers.
For live updates, in-depth interviews, and everything related to high school football tune in to The Game Blitz Friday night at 6 PM. Chase McCabe and Sudzo provide the best insight on local high school football. To hear your school's score updates, Tweet us @GameBlitz1025 on Twitter.