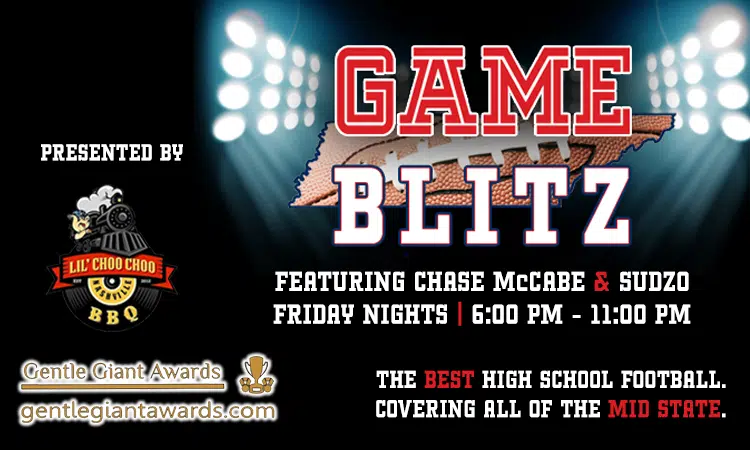 Mid-State high school football is in full swing as schools across the state prepare themselves for week four. ESPN 102.5 The Game Blitz hosted by Chase McCabe and Sudzo will continue following all the Friday Night Lights action starting at 6 PM.
Darius Hylick from Mount Juliet Christian put on a show for Saints' fans last Friday night. Hylick scored seven touchdowns which earned him Gentle Giant Performer of the Week honors.
Who should be our Gentle Giant Awards Performer of the Week? Martin, 280yds Pass, 125 rush 5TDs, Smith 320yds 4TD, Hylick 290yds 7TDs

— GAME BLITZ (@GameBlitz1025) September 5, 2017
Week Four Focus
Two undefeated squads meet Friday night when Gallatin (3-0) and Mount Juliet (3-0) clash. The Green Wave are coming off a win over Hillsboro while Mt. Juliet shutout Lebanon last week, their third straight shutout.
Both schools play in tough regions, a win this week would be key toward gaining momentum as they progress through the season.
CPA (3-0) looks to continue their hot start to the season when they play the Firebirds of Pearl-Cohn (2-1). The Lions pulled off an upset over Ensworth earlier this season. Ingle Martin's team is proving they are a force to be reckoned with again this season.
The Firebirds continue to separate themselves in Metro again this season from the rest of their competition. With their elite athleticism Pearl-Cohn looks to break through CPA's stingy defense.
A showdown in Sumner County between Beech (3-0) and Hendersonville (2-1) is bound to excite. While this game doesn't affect either school's record in their district, this game carries weight still when rivals square off.
For those in Rutherford County, Smyrna (2-1) faces Blackman (3-0). Smyrna began their season well but haven't faced a tough test and won. The Bulldogs will have to play their best game so far this season to knock off Blackman.
Blackman is led by Ohio State commit Master Teague as their high powered offense looks to continue rolling. Blackman looks like the team to beat in Rutherford County when Smyrna comes in to try to knock them off.
To hear your school's score read on-air by Chase and Sudzo Tweet us @GameBltiz1025. Don't forget to tune in Friday night at 6 PM for all Mid-State high school football updates.