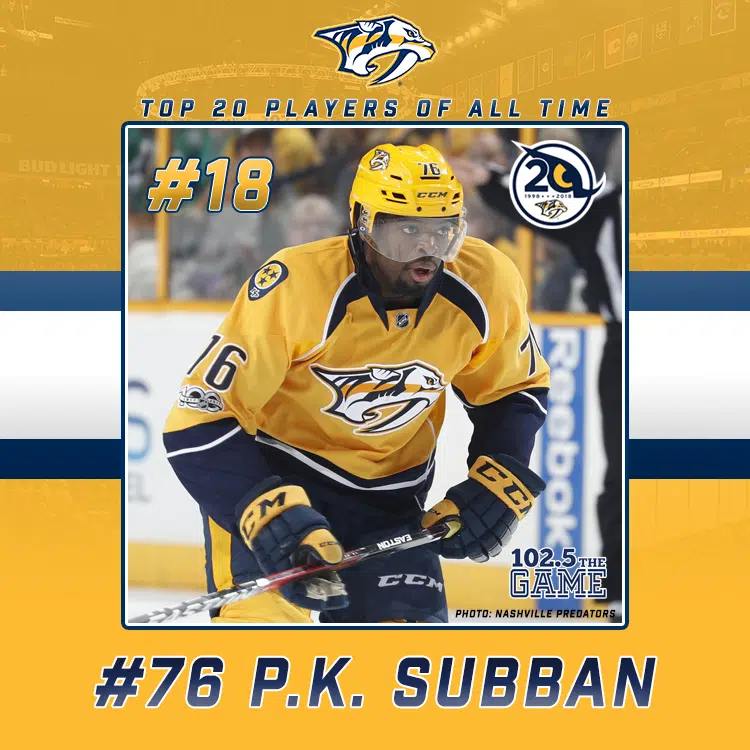 Although he has only spent one season in Smashville, P.K. Subban comes in at #18 on ESPN 102.5 The Game's Top 20 Predators of All Time. His dynamic play on the ice and his larger than life personality are two reasons why he cracked the list.
Subban came to Nashville via a historic trade with the Montreal Canadiens in 2016. Despite injury struggles, Subban was a key contributor in the Preds' Western Conference Championship season.
During his first season in Nashville, Subban made his presence felt with a 40-point season where he only played 66 games. Subban excelled on the powerplay for the Preds with three goals and 16 points.
Throughout the Preds' historic playoff run in 2017, Subban was a vital part of the defense corps. Subban scored two goals and dished out ten assists during the Playoffs and the Stanley Cup Finals.
To hear Willy Daunic's spotlight on P.K. Subban check out the SoundCloud link below. Tune in to ESPN 102.5 The Game everyday to hear the rest of the Top 20 Predators of All-Time as they're revealed. The countdown will last until the puck drops on October fifth, if you miss a player check out The Game Nashville's SoundCloud page to catch up.