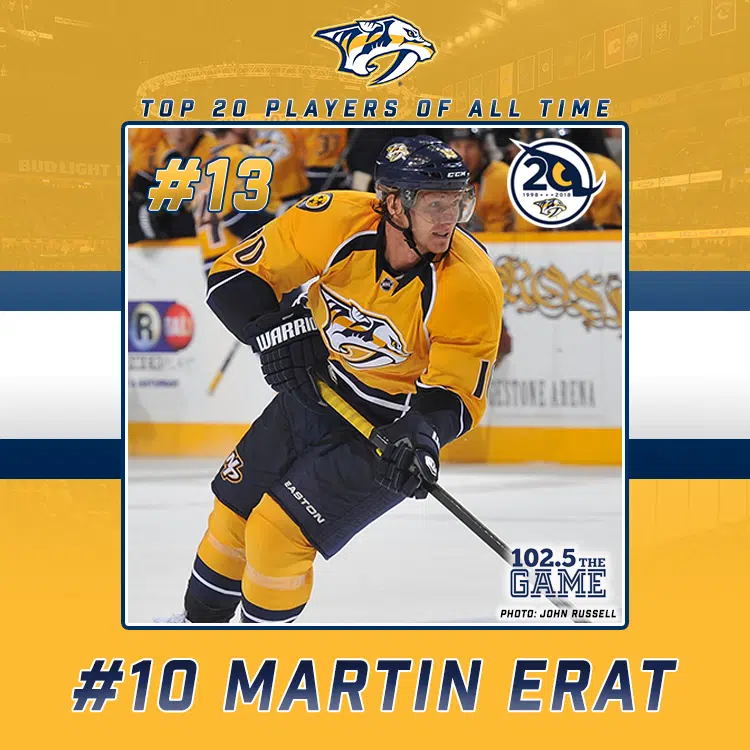 Right-winger Martin Erat is ESPN 102.5 The Game's 13th best Predator of All Time. Erat played in Nashville for 10 seasons, with the best hockey of his 12-year career coming with the Preds.
Preds GM David Poile drafted a gem when he selected Erat in the seventh round (191st overall) of the 1999 NHL Entry Draft.
Erat scored 163 goals with the Predators, which is third in organization history. Erat is also third in Predator history with 723 games played as a member of the organization.
To hear Willy Daunic's spotlight on Martin Erat check out the SoundCloud link below. Tune in to ESPN 102.5 The Game every weekday to hear the rest of the Top 20 Predators of All-Time as they're revealed. The countdown will last until the puck drops on October 5th, if you miss a player check out The Game Nashville's SoundCloud page to catch up.