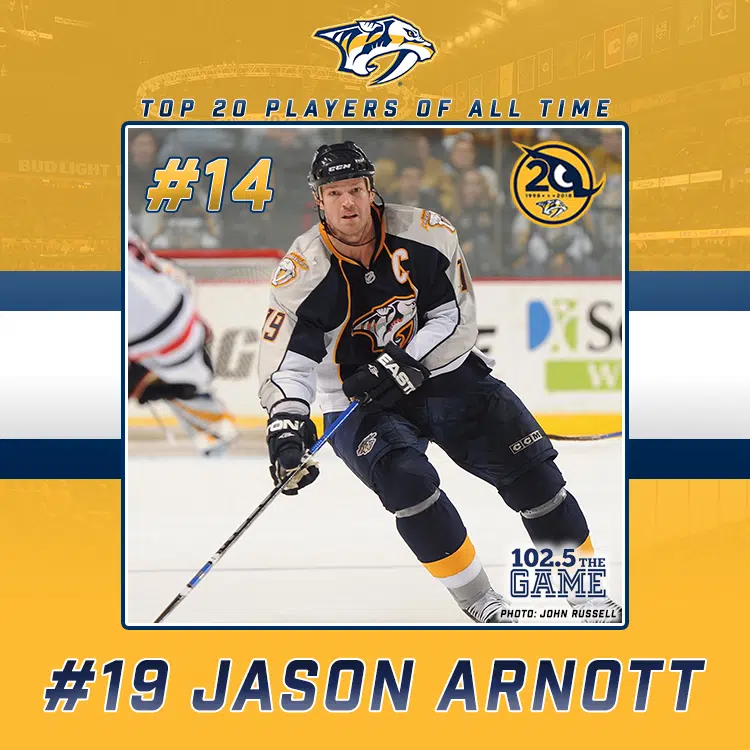 Center Jason Arnott places 14th on ESPN 102.5 The Game's list of Top 20 Predators of All Time. Arnott enjoyed an 18 year NHL career, four of which were with the Predators. He signed in Nashville as a free agent in 2006 after scoring a career high 76 points the season prior.
Arnott stepped into a leadership role in 2007 with the Predators. Then, as captain in 2008 he led the Preds to a playoff berth – the same year he earned an All-Star appearance.
Arnott ranks fifth in Predator history in goals scored with 107. In 2008-09 he tied his career best in goals when he scored 33 times.
To hear Willy Daunic's spotlight on Jason Arnott check out the SoundCloud link below. Tune in to ESPN 102.5 The Game every weekday to hear the rest of the Top 20 Predators of All-Time as they're revealed. The countdown will last until the puck drops on October 5th, if you miss a player check out The Game Nashville's SoundCloud page to catch up.