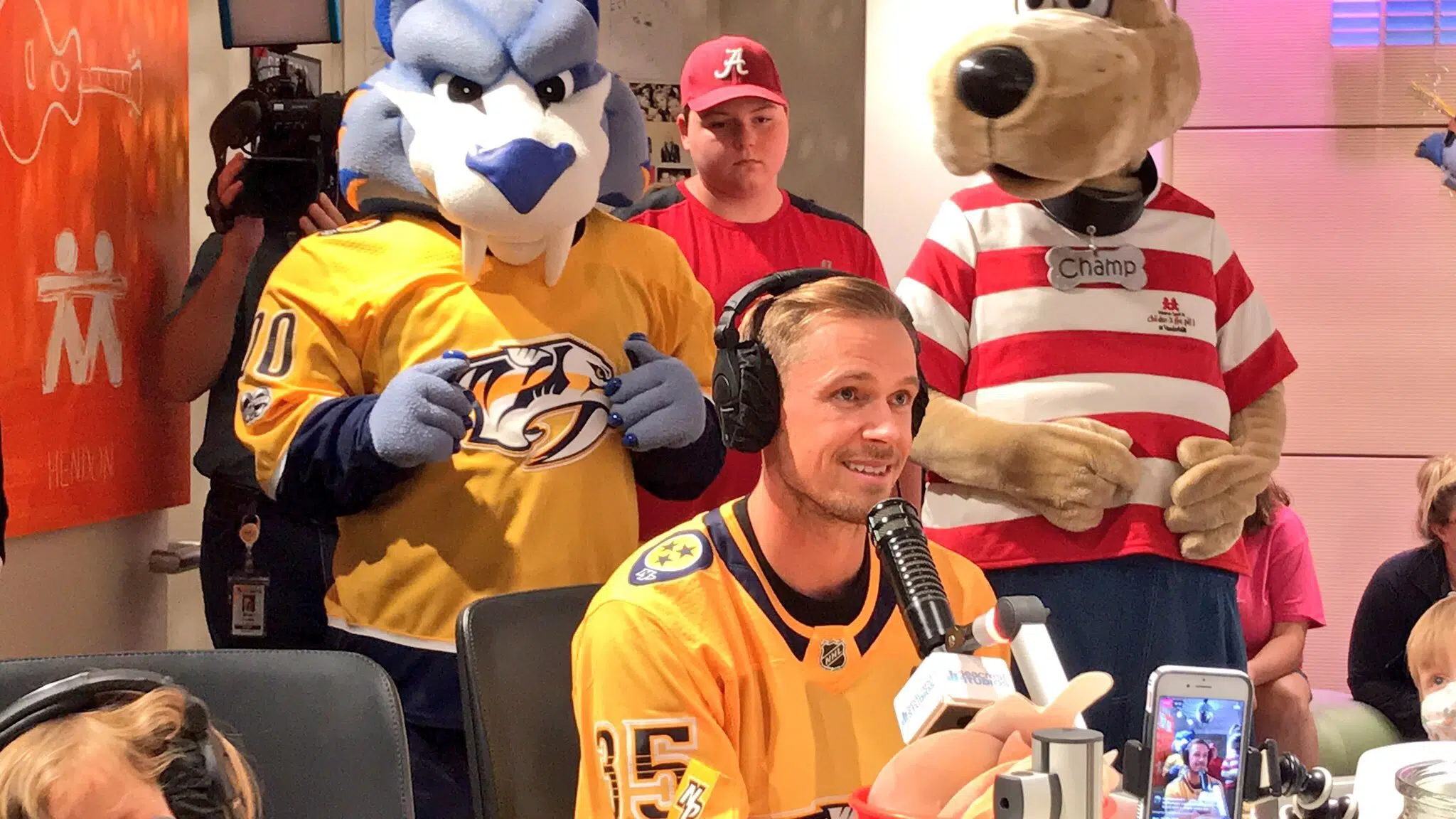 Let's face it. Everyone loves emojis. You've probably used one today. They are the staple that holds every text, comment, and social media post together.
Right now, it's hard to not have the "heart eyes" emoji for Nashville Predators goaltender Pekka Rinne.
On Wednesday, Rinne and the Nashville Predators Foundation had a little fun that involved the children and emojis after they presented a donation to Monroe Carell Jr. Childrens Hospital at Vanderbilt. The amount was written out for an incredible $442,364.17. Watch the check presentation, as well as a few words from Rinne:
Pekka Rinne and the Nashville Predators Foundation are presenting a donation of $442,364.17 to the Monroe Carell Jr. Children's Hospital at Vanderbilt!

Posted by 102.5 The Game & 94.9 Game 2 on Wednesday, September 27, 2017
Once the official presentation was over, Rinne, along with Seacrest Studios Program Manager Mamie Shepherd and some of the patients, broke out what Shepherd calls "The Emoji Game."
In this game, Rinne has to pick an emoji (printed on a stick) and Shepherd asks the Predators all-star a question based on the emoji he chooses. From the start, it was a hit with the children, and we learned a little bit about Rinne in the process. WATCH as Shepherd and Rinne play the game:
https://www.facebook.com/TheGameNashville/videos/1805471396192009/
FROM THE VIDEO: Here is the Q&A between Mamie Shepherd and Pekka Rinne:
Which teammate never texts you back?
RINNE: I don't want to throw him under the bus, but my Finnish fellow Miikka Salomaki. He's living with me right now. *laughs* I'm like his dad… he's like a teenager.
What's your biggest pet peeve?
RINNE: Traffic. I guess you guys can relate to that. It get's pretty bad sometimes.
Which teammate makes you laugh the most?
RINNE: There's a lot of funny guys, but P.K. (Subban) is super energetic. Always something on the go… Pretty funny guy. Cody McLeod is a super funny and loud… Really loud. I've probably got to go with those two guys.
Which teammate are you closest to?
RINNE: This is an obvious one with the Fins (Finnish-native) – Miikka Salomaki and Juuse Saros, the other goalie. They've been living in my house so I've been taking care of them. And then all the Swiss guys… like Roman Josi and Yannick Weber. We have a lot of dinners on the road. But we really have such a tight group.
Have you ever skipped practice?
RINNE: Not on purpose. *Laughs* I used to be really bad about sleeping in. So I've slept in a few times and got in trouble, but never on purpose.
What's your least favorite song right now?
RINNE: It's like a love/hate relationship right now, but "Despacito."
What's your favorite food?
RINNE: I eat healthy because I'm an athlete, but once in a while, a good burger or something like that is amazing.
Did you ever go to the principal's office when you were in school?
RINNE: Never. I was a pretty good student.
What makes you roll your eyes?
RINNE: When someone tries to tell a funny story, and it really isn't. *Rolls eyes and laughs*
What are you going to be for Halloween?
RINNE: No plans yet. We normally have a big team party at someone's house, and it's usually a last-minute decision and shopping. Last year, I was this tennis player. I wore super tight pants. *Laughs*
What was your favorite subject in school?
RINNE: Geography. I've always loved that.
What is your favorite fashion trend?
RINNE: *Gnash interrupts* Oh yeah, thanks Gnash – the Predators gold! We have new jerseys this year. Made by Adidas so they're pretty nice.
Have you ever played a practical joke on any of your teammates?
RINNE: Oh yeah. All the time. I don't know why I talk about Miikka Salomaki all the time, but we're always up to something. Everytime I go to shower after practice, I'm always missing my shoes or my underwear. It's terrible, so I always try to come up with something to get him back.
Do you get sad when hockey season is over?
RINNE: I do. Especially after this last year. It was the best time of my life. But there's always something positive, too. Nashville is my second home, but I get to back to Finland to see my family and my friends. It's a nice option to have.
Which one of your teammates is the most encouraging?
RINNE: I've got to say Matty Irwin, defensemen. He's a super positive guy. He comes to the rink and he works hard. He doesn't get the love or highlights or stuff like that… he kind of goes under the radar, but he's a super nice guy and a great teammate.
What puts you in a good mood?
RINNE: A lot of things. Everyone knows I'm from Finland. Back home, it's hard to get a smile from other people. They don't want to bother anybody. That was a big thing when I moved to North America. Everyone is so happy, and people are always smiling. The littlest thing like that, to put a smile on their face, it's a really good moment and I really appreciate that.
Are you exhausted or wide-awake after games?
RINNE: Wide awake. I mean, I'm exhausted, but your body is still running on high energy and the adrenaline is still running through your veins, so it's hard to go to bed. And then, I have the 365 (Predators Foundation)  suite at the game, so I get to see a lot of the kids after every single game. It doesn't matter what the results are. Obviously the wins are sweeter, but even after a loss, it's great to see the kids and it kind of makes you forget about the game. I used to be really hard on myself, so it's a positive for sure.
The Nashville Predators return to the ice tonight, as they take on the Columbus Blue Jackets in a preseason matchup at Bridgestone Arena. Puck drop is at 7:00 pm, CST. You can listen to the broadcast right here on ESPN 102.5 The Game!