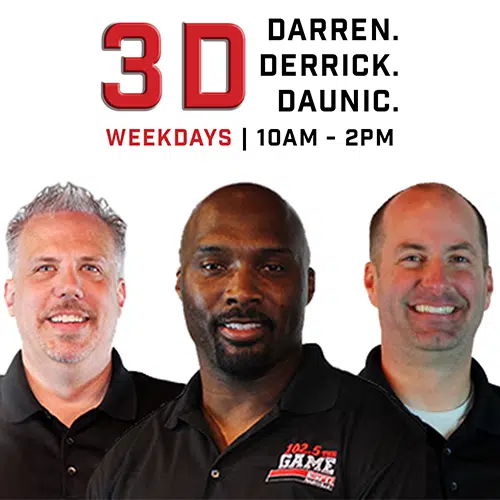 Three former Titans joined ESPN 102.5 The Game's 3D over the last week ahead of the Titans' divisional round playoff matchup with the Patriots. Drew Bennett, Rocky Boiman, and Samari Rolle, each of them were members of the 2003 Titans squad that played the Patriots in the divisional round of the playoffs.
In 2003, the Titans went 12-4 on their way to a Wild Card berth where they knocked of the Baltimore Ravens. The Titans then lost in the divisional round to the Patriots 17-14 in frigid temperatures in New England.
"That was one of those experiences where, even though we didn't win that game, I still talk about that game", said Bennett who dropped a key pass on the Titans' final drive that could've set up a game tying field goal, "That team was so good, we really should have pulled that one out. That last drive was a shame; I would love to have that ball back, it's still one of those things I think about the most from my career."
The similarity between that playoff run and this season for the Titans is striking: both teams were wild cards who had a great chance to win their division. Instead they played in and won the wild card game then had to travel up to Foxborough in the frigid cold.
Boiman said confidence was a key component of the Titans' mindset back then, and certainly should be this year.
"I remember having confidence and being confident in our game plan." Boiman said, "The Titans will certainly take that amount of confidence and much more [into this game]."
Just like the Titans this year, the '03 Titans said they had nothing to lose. Samari Rolle described it as "playing with house money", which is very similar to how many pundits across the country are describing the game Saturday for the Titans.
Each of the former players, including Eddie George whose interview you can listen to here, mentioned the mindset the Titans must take on when going into the frigid cold of New England. Focus and not letting outside noise get inside your head are the keys to holding your own with the Bill Belichick-led New England Patriots.
To hear each of the interviews with former Titans Drew Bennett, Samari Rolle, and Rocky Boiman check out ESPN 102.5 The Game's SoundCloud page below.