Buck Reising, Tennessee Titans reporter and host of Tackling Music City, shares the team's full 2018 training camp schedule and availability for fans.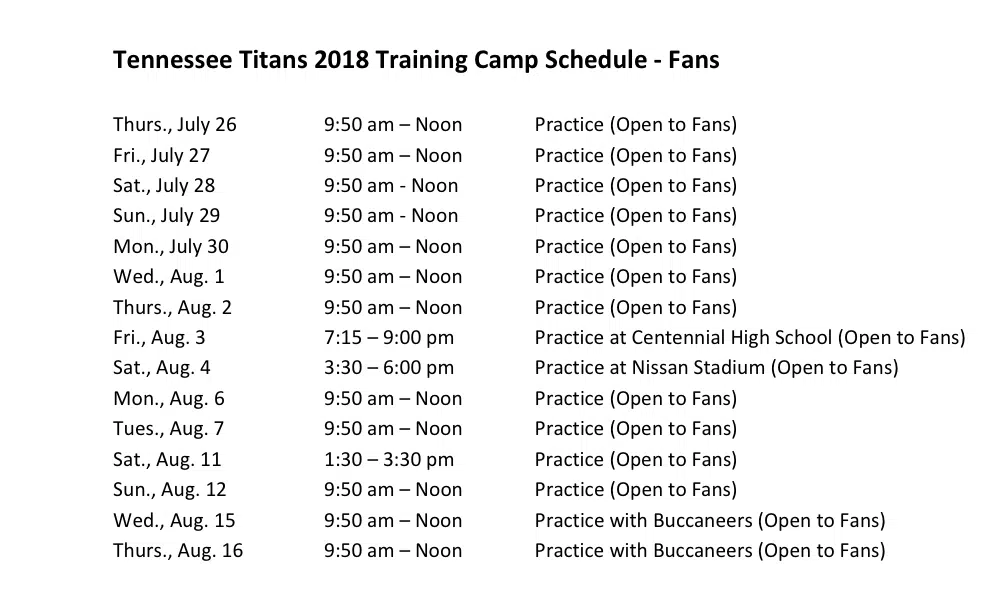 Follow @BuckReising
NASHVILLE, Tenn. — In two weeks, the Tennessee Titans will report to St. Thomas Sports Park for their 2018 Training Camp and now we have the official schedule.
The team released the full slate of practices available for fans to attend, 15 in total. Highlights included joint exercises with the Tampa Bay Buccaneers at St. Thomas Sports Park in Nashville, a "Friday Night Lights" event Friday, August 3 at Centennial High School from 7:15-9 p.m. CT followed by a practice at Nissan Stadium Saturday, August 4 from 3:30-6 p.m. CT.
Additional details will be released as it pertains to Tennessee's training camp set-up for the fans before the opening practice on Thursday, July 26 from 9:50 a.m-noon but all open-to-the-public events are free and autographs will be available.