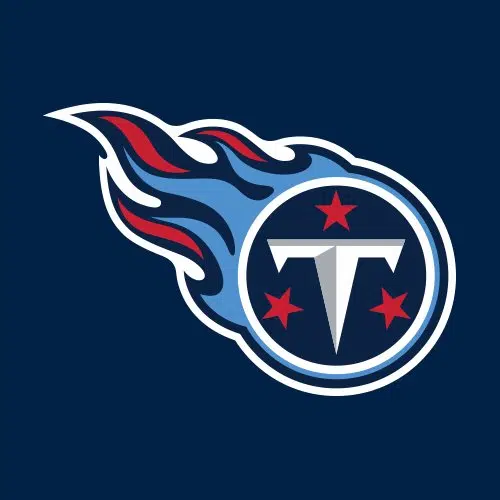 For the past two weeks, ESPN 102.5 The Game has been letting fans and listeners a chance to support their all-time favorite Titans and have their voice heard to help determine who is the greatest Tennessee Titan of all-time. All voting takes place @1025TheGame on Twitter.
This tournament of all-time Tennessee Titans started with four brackets consisting of eight players each and has now dwindled down to the final two players in each bracket, leaving eight overall. Monday morning will begin the quarterfinal round of voting to determine the winner of the Floyd Reese Bracket. This matchup pits former quarterback Steve McNair up against former cornerback Samari Rolle. To help make the decision a little easier for our listeners, we have decided to give you the tale of the tape between these players and matchups as well as include picks from our on-air talent.
Steve McNair vs. Samari Rolle
Steve McNair, QB, 1999-2005
Steve "Air" McNair is without a doubt one of the more beloved players in franchise history and is the only NFL MVP in Titans history (2003). The quarterback from Alcorn State accumulated over 19,482 yards (2,783.1 per year), 118 touchdowns (16.9 per year) with 75 interceptions (10.7 per year) during his time as a Titan. While McNair was lethal throwing the ball, he still possessed enough mobility to run for 1,999 yards as a Titan (285.6 per year).
While under center, the three-time Pro Bowler led the Titans to four playoff appearances, two division titles and the only conference title in Titan history. During his time as a Titan, McNair did nothing but win, posting a 56-37 record while wearing the two-tone blue.
During his Co-MVP season, McNair threw for 3,215 yards and 24 touchdowns to go along with a 100.4 Quarterback Rating.
Samari Rolle, DB, 1999-2004
Samari Rolle played an essential role on some of the earlier successful Titans teams as a lockdown defensive back for six years. During his tenure in Nashville as a Titan, Rolle racked up 234 tackles (39 per season) and 23 interceptions (3.8 per season).
Like McNair, Rolle was also a member of the only Titans team in franchise history to reach a Super Bowl.
Rolle had a couple of exceptional individual seasons as a Titan but 2000 was by far his most accomplished. In that year, Rolle earned a trip to the Pro Bowl as well as being named First Team All-Pro by the Associated Press, Pro Football Writers and The Sporting News. During that breakout season, Rolle picked off seven passes which was good enough to rank third in the league to go along with 35 tackles and a fumble recovery.
102.5 The Game's Picks:
Floyd Reese: Steve McNair
Jared Stillman: Steve McNair
Willy Daunic: Steve McNair
Darren McFarland: Steve McNair
Derrick Mason: Steve McNair
Braden Gall: Steve McNair
Final Analysis:
While I personally appreciate the contribution Rolle gave to the franchise on the defensive end, the legend of McNair alone surpasses the many on-field accomplishments by Rolle. To add to it, according to Pro Football Reference, McNair is the Titans franchise leader in AV (Approximate Value) which is a metric used to determine how valuable one player is compared to the average player at that position. With that all being said, I'll take the former MVP on this one.
Keith Bulluck vs. Frank Wycheck
Keith Bulluck, LB, 2000-2009
As a key centerpiece to some of the franchises best defensive units at linebacker, Bulluck carved out an incredible decade of dominance in a Titans uniform. As a menacing force on the defensive end, Bulluck recorded 770 tackles (77 per year), had three 100-tackle seasons (side note: almost had four but was one short in 2006) and even picked off 19 passes in coverage.
In 2003, Bulluck had arguably his greatest season, collecting First Team All-Pro honors as well as a trip to the Pro Bowl. Bulluck also was a disruptive force when it came to turning the ball over as he forced five fumbles (taking one to the house for six) and picked off one pass. The ten-year Titan out of Syracuse went on to record a career high 104 tackles during that All-Pro season.
The most important stat for Bulluck comes from Pro-Football Reference metric known as AV. For Bulluck, his 84 AV rating is behind only Steve McNair, Brad Hopkins, and Eddie George in Titans history.
Frank Wycheck, TE, 1999-2003
Tight end Frank Wycheck was easily one of Air McNair's favorite targets during their time in Nashville. While Wycheck is still a fan favorite to this day, his on-field performance is certainly worthy enough to garner debate as to if he is one of the best Titans of all-time.
Wycheck didn't spend as much time as a Titan as others in this bracket, playing only five seasons, but during his time he was able to catch 14 touchdowns (2.8 per season), record 2,460 yards (492 per season) on 256 catches (51.2 per season).
Throughout his entire career, Wycheck was voted into the Pro Bowl three times and ended up as a second team all-pro back in 2000 when he caught 70 passes for 636 yards and four touchdowns. During two of the franchise's greatest seasons, Wycheck was at his most reliable, leading the team in receptions in 1999 (69) and in 2000 (70).
102.5 The Game's Picks:
Floyd Reese: Keith Bulluck
Jared Stillman: Keith Bulluck
Willy Daunic: Keith Bulluck
Darren McFarland: Frank Wycheck
Derrick Mason: Frank Wycheck
Braden Gall: Frank Wycheck
Final Analysis:
The vote was split right down the middle for our on-air personalities here at 102.5 and for some, it required a plethora of thought and consideration as this has probably been the tightest and closest matchup of this entire bracket so far. But for me, Bulluck's career 84 AV, his dominant 2003 season and his longevity as a dominant linebacker gives him the edge over Wycheck. While Wycheck is probably the greatest tight end to put on a Titans jersey, he only logged half of the time Bulluck. Defense wins championships and in this case, it moves Keith Bulluck into the semi-finals of our bracket to take on Air McNair.