Nick Kayal joined ESPN 102.5 The Game in February 2018. Nick comes from Philadelphia, and many are attributing the Eagles Super Bowl victory to Nick finally leaving town. Content, Opinions, Personality & Entertainment. It all comes standard with Nick.
When not running his mouth weekday mornings to the great city of Nashville, Nick can be found going insane on a golf course, working out, and annoying his colleagues of Morning Drive with chain text messages and GIF's. Nick loves Alabama football, iced coffee, Tito's vodka, the occasional sports wager, as well as poker, fantasy sports and WWE. Nick does not like kickers, Twitter accounts that have an egg as their avatar, people who wear socks with sandals, the Auburn Tigers and the Dallas Cowboys.
FOLLOW NICK ON TWITTER: @NickKayal
Number 85 is now on Morning Drive! After playing 15 seasons in the NFL for the Titans, Ravens, Jets and Texans, Derrick Mason now spends his time talking sports with all of you.
Mason amassed more than 12,000 yards receiving and over 17,000 all purpose yards. After retiring, Mason returned to Nashville and joined 102.5 the Game in 2014 as a part of the midday show. He's now made the switch to Morning Drive and helps you start your day by talking Titans, Preds and of course LeBron James. DMase brings his expert knowledge of a former athlete each and every day on Morning Drive. When he's not working, he's spending time with his two kids Bailey and DJ.
FOLLOW D-MASE ON TWITTER: @DeeMason85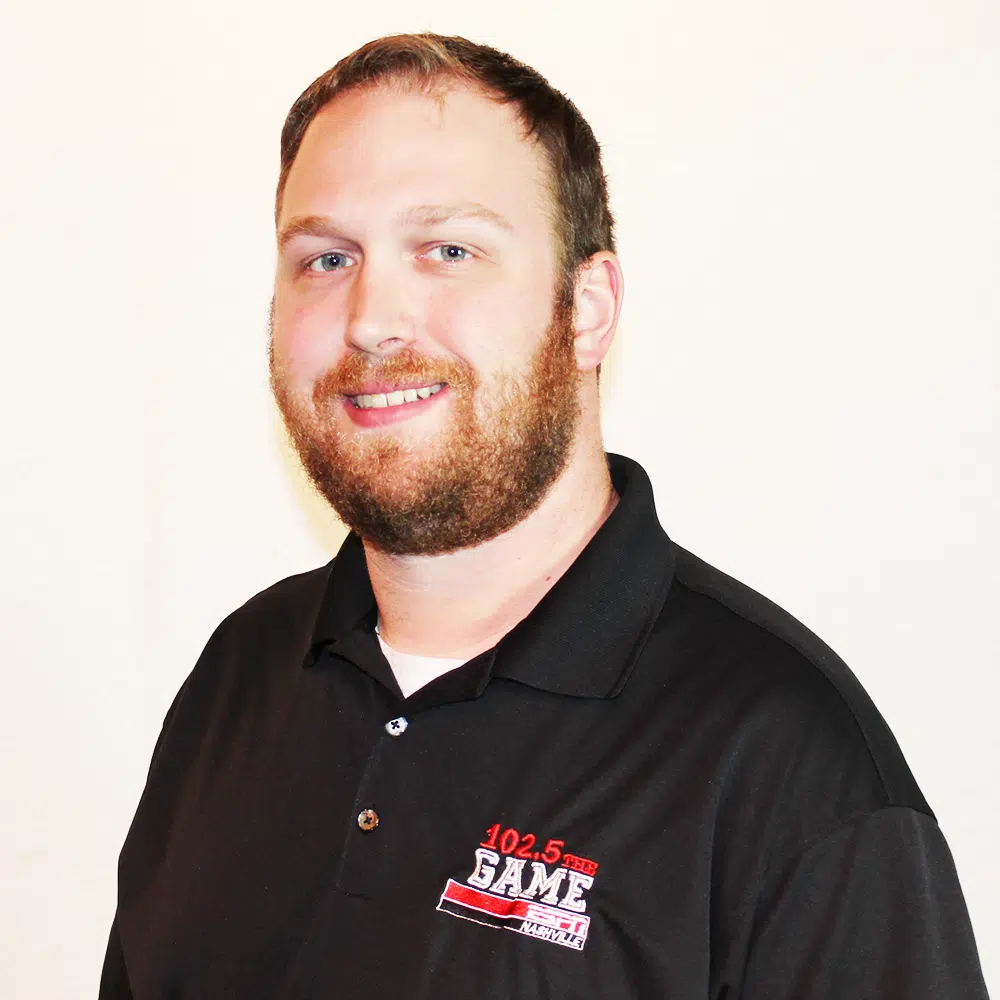 "Macababe" wears many hats at 102.5 the Game. Firstly, he is the Assistant Program Director, what does that mean? We aren't really sure. Also, he's the Executive Producer of Morning Drive, still not really sure what that means.
He got his start at the Game as an intern and has now been here for almost 7 years (we put out a saucer of milk and he never left). He tries to keep the show on the rails and get the guys to "Stick to Sports" (everyday at 8:45, cheap plug) or he's just the brunt of a joke and takes it like a champ.  When he's not with the fellas on MD, he's talking Preds hockey for the Predators Radio Network, hosting his Chasing Checkers podcast or whatever else is needed at the Game.  In his personal time, he's playing guitar, hanging with The Crew on Nashville Nights or trying to catch his dog, Sawyer.
 FOLLOW CHASE ON TWITTER: @ChaseOnGame
Braden Gall is a Franklin High School and University of Tennessee graduate. He is a multi-media personality with an impressive resume that includes stints at WNML in Knoxville, Rivals Radio, Athlon Sports and SiriusXM.
"I bounced around my entire childhood, so to call Nashville home for the last twenty years has meant a lot to me. To be offered the chance to combine my passion for this city with the insatiable love I have for college football, the NFL and the chase for Lord Stanley's Cup is a thrilling opportunity. To do it with Fitz, a friend who shares that exact same passion, is even more exciting." Braden continues, "Nashville is an incredible place with incredible people and we're honored to be a part of your mornings at ESPN 102.5 The Game."
FOLLOW BRADEN ON TWITTER: @BradenGall