Predators Season Recap
Timeline
June 29th – Nashville Predators trade Shea Weber to the Montreal Canadiens for P.K. Subban.
January 10th – Pete Weber calls his 2,000 Nashville Predators game, a 2-1 victory over the Vancouver Canucks.
January 22nd – Coach Laviolette becomes only second U.S.-born coach and 25th overall to win 500 NHL games and the 28th overall coach to coach 1000 games.
February 23rd – Forsberg records first back-to-back hat tricks in franchise history.
February 23rd – Forsberg becomes first player to record back-to-back hat tricks since Canucks forward Alex Burrows did in 2010.
February 21-28th – Forsberg also becomes first player with 10 goals in a 5-game win span since Pavel Bure in 2001.
April 20th – Preds complete their first Stanley Cup Playoffs sweep in franchise history.
April 20th – Preds become first ever No. 8 seed to sweep a No. 1 seed (Chicago Blackhawks) in NHL history.
May 7th – Preds advance to the Western Conference Finals for the first time in franchise history by defeating the St. Louis Blues 4 games to 2.
May 14th – First Western Conference Finals victory in franchise history.  Defeated the Anaheim Ducks by a score of 3-2 in Overtime.
May 16th – Hosted first Western Conference Finals game at Bridgestone Arena.
May 22nd – Preds become first ever No. 16 seed to reach the Stanley Cup Final.
May 22nd – Preds advance to the Stanley Cup Final for the first time in franchise history by defeating the Anaheim Ducks 4 games to 2.
May 22nd – Colton Sissons had the second hat trick in Predators playoff history. Also became first player to record a hat trick in a series-clinching win in the conference final since Patrick Kane in 2013.
June 3rd – Hosted first Stanley Cup Final gae at Bridgestone Arena.
June 3rd – First Stanley Cup Final victory in franchise history.  Defeated the Pittsburgh Penguins by a score of 5-1.
June 21st – Nashville Predators General Manager, David Poile, is awarded the NHL General Manager of the Year Award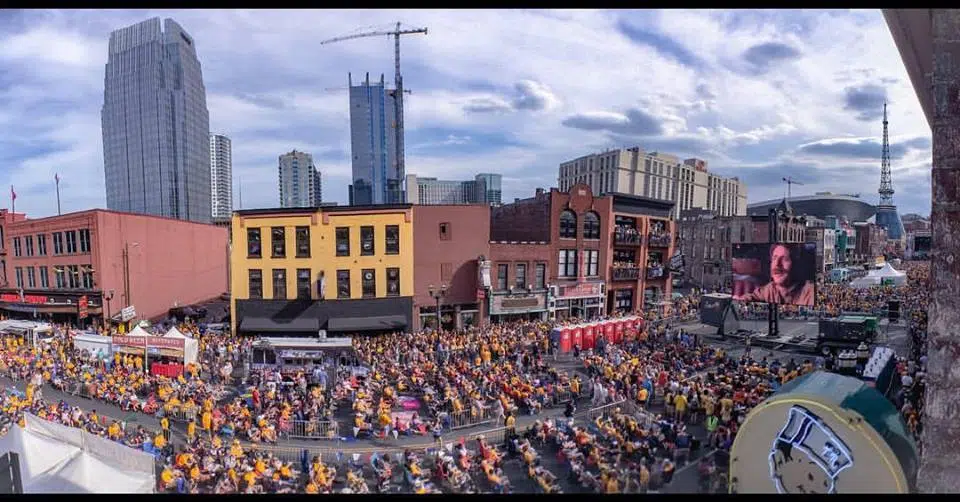 Economic Recap
The overall economic impact from a record 11 home playoff games (3 Stanley Cup Final, 3 Western Conference Final, 3 Second Round and 2 First Round) was over $50 million
Business Recap
The Nashville Predators sold out all 41 regular season home games and all 11 home playoff games for the first time in franchise history, giving the Preds a total of 52 consecutive sell-outs this season.
The Preds have sold out 61 consecutive home games dating back to the end of the 2015-16 season.
The volume and quantity of items sold in the Nashville Predators brick-and-mortar and pop-up locations during the playoffs are as large if not larger than the sales for an entire hockey season.
The Nashville Predators have had the most successful ticket sales season and highest season- ticket renewal rate to date.
Game six of the 2017 Stanley Final delivered an average audience of 11.5 million across North America. It was the most-watched Stanley Cup Playoff game in North America since Game Six of the 2013 Stanley Cup Final (Chicago vs. Boston; 12.2 million average audience).

Game Six on NBC pulled a 28.3 rating in Nashville, the highest-rated Preds game ever in the Nashville market. Game Three on NBCSN pulled 16.6 rating in Nashville, the all-time record for an NHL game on NBCSN.
FOX Sports Tennessee and FOX Sports South also provided post-game coverage through the playoffs.

Bridgestone Arena was recognized for its leadership in addressing safety and security issues as part of the 2017 National Sports Safety and Security Conference and Exhibition in July. The National Hockey League Security Department selected the Arena as its venue of the year for the 2016-17 season.
It is estimated that during the Nashville Predators 2017 playoff run, close to $2.7 million was generated for the city through ticket, merchandise and concessions sales taxes.
Nashville Predators Foundation
Over the four playoff rounds, the Nashville Predators Foundation collectively raised $200,000 which includes Auction, Smash Car and game night sales.
The Game Five Auction and fundraiser during the St. Louis Blues series raised $20,000 for the American Red Cross in support of the St. Louis flood relief efforts.
The Game Night Auctions raised over $200,000 through the 2017 playoff run.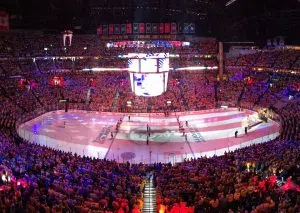 In-Arena Guests
Round One – Chicago

April 17 – Anthem Singer: Carry Underwood, Towel Waiver: Mayor Megan Barry
April 20 – Anthem Singer: Luke Bryan, Towel Waiver: Luke Bryan

Round Two – St. Louis

April 30 –  Anthem Singer: Little Big Town, Towel Waiver: DeMarco Murray
May 2 – Anthem Singer: Vince Gill & Daughters, Towel Waiver: Brandt Snedeker
May 7 – Anthem Singer: Lady Antebellum, Towel Waiver: Kevin Fiala & Paramore

Round Three – Anaheim

May 16 – Anthem Singer: Keith Urban, Towel Waiver: Marcus Mariota & Titans O-Line
May 18 – Anthem Singer: Kelly Clarkson, Towel Waiver: Kings of Leon
May 22 – Anthem Singer: Trisha Yearwood, Towel Waiver: Eddie George

Stanley Cup Final – Pittsburgh

June 3 – Anthem Singer: Martina McBride, Towel Waiver: Hank Williams Jr.
June 5 – Anthem Singer: Dierks Bentley, Towel Waiver: Jason Aldean
June 11 – Anthem Singer: Faith Hill, Towel Waiver: Tim McGraw