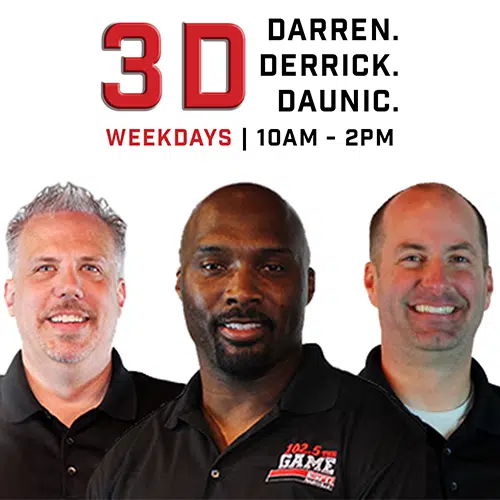 With the CONCACAF Gold Cup kicking off this weekend in Nashville and Nashville SC gearing up for their first season in the United Soccer League, it's an exciting time for soccer in the Music City. Nashville SC CEO Court Jeske joined Derrick Mason and Darren McFarland on 3D Thursday morning to discuss all things fùtbol.
The conversation started with Jeske and the crew talking about how and when soccer rose in popularity in the U.S., which Jeske said is thanks to ESPN's coverage of the 2010 World Cup and U.S. soccer legend Landon Donovan's game-winning goal against Algeria during the tournament.
"In 2010, it became cool," Jeske said. "If you guys remember, Donovan's goal to win the game and the fact that we made the knockout round. That was the first World Cup that ESPN put every game on ESPN, ESPN2 or one of the networks… They made it cool for people to watch and it was destination programming."
Jeske went on to mention the volume of soccer now televised in the United States, and said that a big part of the growth of the sport has been that exposure as well as video games like FIFA helping younger people not just play soccer, but understand the broad environment that the sport inhabits.
For Jeske and Nashville SC, this is imperative. While the club wants to sign talented players, it is more important to create a culture that allows kids to develop their way into the team while also developing a love for their community and what the club represents.
"We are going to develop a player pipeline," Jeske said. "We've got a partnership with the [Tennessee State Soccer Association] that we've rolled out that allows us the chance to provide coaching… We're truly making an investment in the sport in the same way the Nashville Predators have done by adding ice rinks and being able to touch a lot of players."
The community aspect is what feeds the fervor in soccer-obsessed regions like Europe and South America, and Jeske repeated emphasized the importance of developing that connection.
"We are extremely open to listening to all communities here," Jeske said. "Asking them how they wanna help build this club. How do they wanna make this club something that represents our city? We've received tremendous feedback."
A part of that will be working with CONCACAF and the Nashville soccer community for an impressive fan showing at Nissan Stadium. Jeske encouraged fans to look into tickets sooner rather than later because their has already been an impressive amount of tickets sold.
"Word is that we've passed 40,000 tickets already," Jeske said. "I encourage people to go buy their tickets now and make sure they get the best seats available… Coming off the Fourth of July, there should be a huge red, white and blue event. We need everyone to come out and purchase tickets, support the U.S, support whatever team you like and support the international atmosphere."
United States will kick off against Panama at 3:30 p.m. and Nicaragua vs. Martinique will follow immediately after.
For the whole interview, listen here: