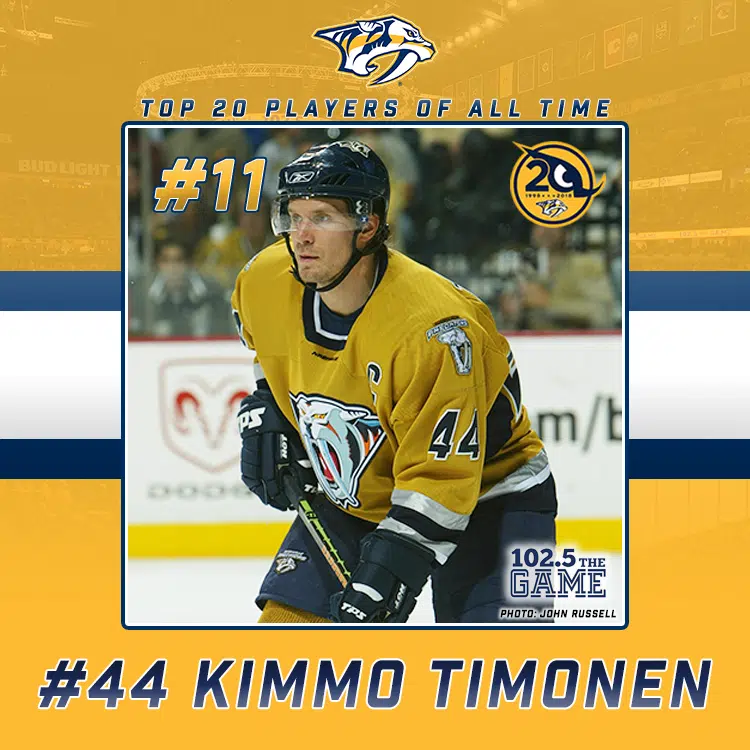 ESPN 102.5 The Game's 11th best Predator of All Time is Defenseman Kimmo Timonen. Timonen began his career in 1998 after he was traded from the Los Angeles Kings to Nashville.
In 2006, Timonen was named captain of the Predators, which turned out to be a career year for him. He posted career highs in points (55), goals (13), and assists (42) while finishing top five in voting for the Norris trophy that season.
Timonen played in 573 games over eight seasons with the Predators. He ranks inside the top five of Preds' franchise history in games played (573), points (301), assists (222), goals created (102.3), and power play goals (46).
To hear Willy Daunic's spotlight on Kimmo Timonen check out the SoundCloud link below. Tune in to ESPN 102.5 The Game every weekday to hear the rest of the Top 20 Predators of All-Time as they're revealed. The countdown will last until the puck drops on October 5th, if you miss a player check out The Game Nashville's SoundCloud page to catch up.